Los Angeles Turners Outings Program 2018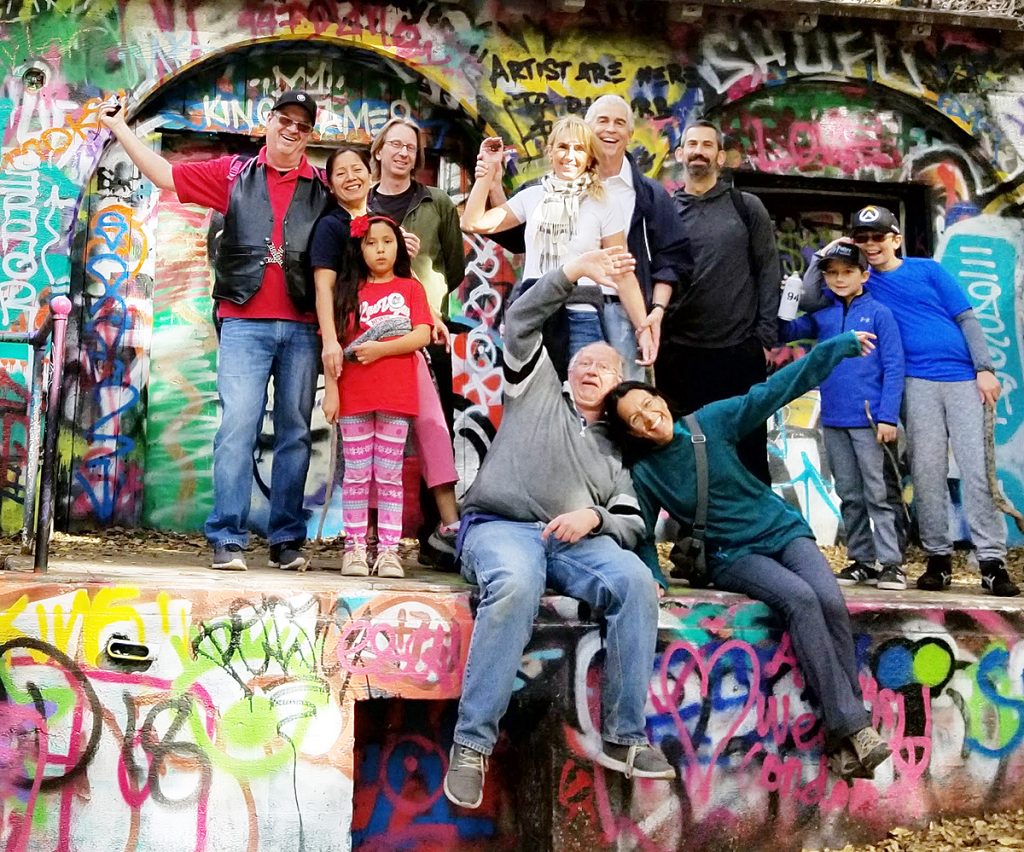 Sunday, April 22, 3 PM – Del Cerro Park (see below)
Sunday, January 21, 10 am
Rustic Canyon (picture left) – Capri Trailhead to Murphy Ranch
2 hours, 3.4 mile loop, 400ft elevation gain, fire road, shaded forest and some stairs
easy to slightly moderate difficulty
park on Casale Drive and meet at Capri Trailhead
lunch at "Back on the Beach Cafe"
www.alltrails.com/trail/us/california/murphy-ranch-trail–2
Sunday, February 25, 11 am
Camelia Blossom at Descanso Gardens
easy walk in the park, visits to Stuart Haaga Gallery and the Boddy House
lunch at "Descanso Cafe"
meet in front of park entrance at 1418 Descanso Drive, La Canada-Flintridge
www.descansogardens.org
Sunday, March 11, 9 am
Vasquez Rocks & California Poppy Reserve
two short and mostly flat one hour walks
lunch at the "Rock Inn" on Lake Hughes
meet at 1701 Clinton Street, LA for carpooling
http://parks.lacounty.gov/wps/portal/dpr/Parks/Vasquez_Rocks_Natural_Area
Sunday, April 22, 3 pm
Del Cerro Park – Paintbrush Trail to Portuguese Bend
2-3 hours, 5.9 mile loop, 964ft elevation gain, ocean views, wildflowers, sunset
dinner at "El Pollo Inka"
park at Del Cerro Park at the southern end of Crenshaw Boulevard, meet at trailhead
www.alltrails.com/trail/us/california/paintbrush-trail-to-portugese-bend
Saturday, May 19, 10 am
Switzerland Resort site – moderate difficulty, 3.6 miles total out&back trail,
362ft elevation gain, 702ft if you decide to scramble to the top of the waterfall,
shaded forest and creek bed trail,Bring a $5 Forest Adventure Pass or buy one at the
Clear Creek Info Center on Angeles Crest Highway. Exit I-210, head north on Angeles
Crest Highway for 9.8 miles, turn right on Switzer Truck Trail, park as close to the
trailhead as possible and meet us at the gate.
www.alltrails.com/trail/us/california/switzer-falls-via-gabrielino-trail
Lunch at "Schreiner's", quite possibly followed by desert at "Berolina Bakery".
Saturday, June 9, 9:30 am
Mandeville Canyon to San Vicente Mountain Nike missile site
moderate, 5.1 miles loop trail, 705ft elevation gain, fire road trail, views, views, views
North on Mandeville Canyon road for 4.8 miles, turn left at Garden Land Road, park on
street, if street parking is full, head 0.3 miles back south and park in the off-street area on
Mandeville Canyon across from Hollyhock Fire Rd., meet at the gate at Garden Land Rd.
modernhiker.com/hike/mandeville-canyon-to-san-vicente-mountain/
Lunch at "Il Piccolo Verde"
Sunday, July 8, 10 am
Solstice Canyon, Malibu Seafood, Escondido Beach
moderate, 3.2 mile loop trail, 797ft elevation gain, some shade, some dirt road, some trail
Head north on PCH, turn right at Corral Canyon Rd, after 0.2 miles turn left into Solstice
Canyon Rd, pray for parking and possibly backtrack to the overflow lot at the intersection
of Solstice and Corral Canyon Roads, meet at the Solstice Canyon Education Shelter
www.alltrails.com/trail/us/california/solstice-canyon-loop-trail
Lunch at "Malibu Seafood" followed by rest & relaxation at Escondido Beach nearby.
Sunday, August 12, 2 pm
Ventura County Fair
This fair is a blast from the past. It's right by the sea, which keeps those summer temps
down. Where other fairs sell entertainment tickets separately on Ticketmaster, Ventura
County Fair still has free concerts and free rodeo. While the entertainment schedule is not
out yet, this is the last day of the fair, which traditionally means there will be rodeo!
Park in the Secret Parking Lot (351 S Ash Street, Ventura) and meet us anytime between
2 and 3pm a Beach House Tacos on the Ventura Pier. At 3pm we will be heading over to
the fair. Rodeo or live music starts at 7 pm give or take.
www.venturacountyfair.org/fair/
Thursday, September 13, 6pm
Downtown Art Walk
easy, 1 mile loop trail, 20ft elevation gain, shady polished concrete & hardwood trail
Meet at Cole's (118 E 6th Street) for happy hour until 7pm, then head out into the art
world. Should be a warm summer night. Should be a good crowd and lots of fun.
www.downtownartwalk.org
Saturday, October 20, 10am
Paramount Ranch Loop Trail & King Gillette Ranch Picnic
easy, 2.1 mile loop trail, 203 ft elevation gain, well-maintained dirt trails
Take Kanan Road exit off Hwy. 101 and head south for 1/2 mile. Turn left into Cornell
Road. Paramount Ranch will be on your right after about 2 miles.
www.alltrails.com/trail/us/california/paramount-ranch-loop
We will then head over to the quite old King Gillette Ranch with the quite new Santa
Monica Mountains Visitor Center for a lunch & learn experience. The Turners will have
to basic picnic supplies covered, but feel free to bring fancy foods and deserts.
Sunday, November 18, 10am
Doo Dah Parade, Pasadena
Some of the best people-watching in town is to be had at this annual get-together of nonconformists
of all stripes in, of all places, Pasadena. Meet at "Plate 38" (2361 E Colorado
Boulevard, Pasadena) for breakfast, then join the mayhem as it unfolds.
www.pasadenadoodahparade.info
Thursday, December 20, 7:30pm
Newport Beach Christmas Boat Parade
We will gather in front of the Balboa Island Museum (331 Marine Avenue, Balboa
Island) and then proceed to stake out front row seats to one of the most cheerful events in
the Southland. Afterwards, follow us to the "Chicken Coop", the last remaining dive bar
in Newport Beach. Just the right place to conclude an evening among friends.
www.christmasboatparade.com
Please RSVP to agritschke@hotmail.com, so we know to wait for you, in case you
somehow managed to get stuck in traffic. If you think you will be running more than 15
minutes late, please call 310-210-0435.